Is a sparkling clean floor one of your spring cleaning goals?
Vacuum is one of the most annoying household chores. While it's not as disgusting as cleaning toilets or as tedious as dusting, pushing and dragging a noisy, bulky vacuum cleaner is torture. Let a robot do your job for you. These options are more capable and affordable than ever before.
The vacuum has come a long way.You no longer have to suffer the indignity of dragging around an unwieldy plastic hose connected to a clumsy, wheeled canister the size of a Galapagos tortoise.And you don't need much effort: You can run them from your couch with a physical remote control or a smartphone app, and high-end models can be programmed to stand up and start cleaning automatically, without any intervention. Robot vacuums can easily handle the most common household waste -- food scraps, pet hair, dust -- and they're ideal for routine maintenance and quick cleaning when you want someone to keep you company. Which is right for you? Our top choice is not the most expensive model on the market, although its price tag is there. If you are on a limited budget, we strongly recommend this as well.
Best budget robot vacuum
The Lefant M201 robotic vacuum cleaner has a slim design allowing it to fit in tight spaces. Designed with built-in anti-collision sensors, multiple cleaning modes, object mapping, self-charging, and a large dustbin capacity. Whether you're budget constrained or you just don't need all the bells and whistles (Wi-Fi connectivity, mapping, smart speaker support) that more sophisticated (and much more expensive) robot vacuums have to offer, The Lefant M201 delivers a tremendous amount of bang for the buck.
Best robot vacuum for pet hair
When a manufacturer builds one device that's designed to perform more than one function, you all too often  end up with a product that's a jack of all trades, but a master of none.That wasn't the case with the Lefant M210, and this update version features Upgraded Free-Move Technology 2.0 that cutting-edge 6D built-in 360-degree anti-collision infrared sensors to help the robot vacuum sense its surroundings. It can even sense objects above it which prevents it from getting stuck. We've been impressed with several of Lefant's inexpensive robot vacuums, but the Lefant M210 bowled us over with its ability to pull pet hair off the floor, Powered by a strong digital motor which provide 1800pa strong suction power. The unique suction structure ensures that pet hair and dirt go into the dustbin efficiently which makes the M210 extremely suitable for pet owners.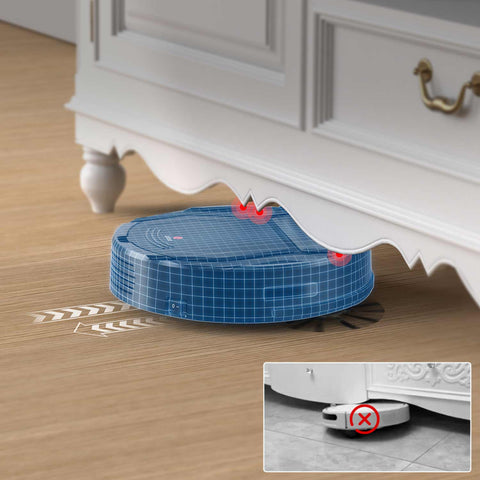 Best all-around robot vacuum
The Lefant T800 is a fully automatic robot vacuum cleaner and our strongest ever suction power (2000Pa Max). This robot vacuum cleaner has a slim design allowing it to fit in tight spaces, built-in anti-collision sensors, object mapping, multiple cleaning modes, and a large dustbin capacity of 600ml. It's designed with an automatic charging function while maintaining quiet operation. High-capacity lithium-Ion(2500mAh) can provide up to 120 minutes of runtime, allowing hands-free cleaning. Safe for carpet or hardwood floors. Create your own cleaning schedule using the Lefant app and voice control. Clean your home wherever you go. 
Robot vacuum features and functions
Unlike more traditional canister or stick models, robot vacuums are autonomous and (for the most part) intelligent. The vacuums we've tested are equipped with lasers, motherboards, sensors, and even Wi-Fi to navigate around your home without the need for assistance. With a few exceptions, you barely have to interact with them at all.
The robot vacuums in our guide all operate the same way: They autonomously maneuver around your home on a couple of wheels suctioning debris from your floors. Two to four brushes on the bottom—both rolling-style agitators and spinning side brushes—grab dirt from the floor and wall edges respectively, and guide it into the suction area or direct it straight to a small, filtered dustbin.
Just pick a robot-accessible spot for the charging dock, and the bot will return on its own before it runs out of juice. When it does, it will sit there until it has enough energy to go back out and continue to bust dust from where it left off. You can also set schedules for most bots to wake up and start a cleaning job, so it can take place while you're out of the house. That means you can potentially avoid all physical interaction until the vacuum needs to be emptied.
But just how they get the job done can differ across manufacturers and models. Here are some features and functions to consider beyond the basics.