Dear customer, as the impact of the epidemic, our accessories will be shipped from warehouses in other countries, and the logistics time is 10-20 business days. The Robot Vacuum Cleaner is delivered from the US warehouse, only needs 3-10 business days. We feel sorry about the inconvenience caused, please forgive us.


The Lefant M210 is one of the most compact quiet robotic vacuums in the market with powerful suction. At 2.8" H and only 11" L, this wireless robot vacuum can reach tight spaces and clean under furniture easily and efficiently.

Designed with gyroscope Built-in anti-collision sensors, object mapping, 360-degree sensors, multiple cleaning modes, and long battery life make this vacuum unbeatable. Safe for carpet or hardwood floors. Handles pet and human hair clean up with tangle-free technology. Create your own cleaning schedule using the Lefant app and voice control. Cleaning your home is now easier than ever.


Upgraded Free-Move Technology 2.0
Lefant M210 robotic vacuum uses cutting-edge 6D built-in 360-degree anti-collision infrared sensors to help the robot vacuum sense its surroundings. It can even sense objects above it which prevents it from getting stuck. Anti-dropping sensors also prevent the robot vacuums from falling off high places.
Trap allergens
A double HEPA filtration system effectively blocks particles and prevents secondary pollution. The high-performance filter is designed to capturing up to 99% of dust, dander, and pet allergens.
Compact Design
Small, ultra-thin body, with powerful suction. The Lefant M210 vacuum can reach tight spaces and clean under furniture easily and efficiently.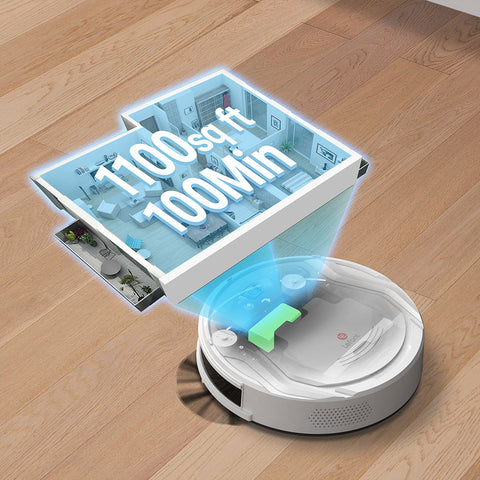 Long Life Battery
The Lefant M210 Auto Vacuum Cleaner Robot up to 100 minutes run time or approximately 1100 sq ft. It uses 1800mah lithium iron phosphate batteries which are safe and durable and long-lasting.
Strong Suction
Strong suction with tangle-free hair clean-up technology. Lefant uses rubber brushes, so pet and human hair clean-up is a breeze. Perfect for pet owners.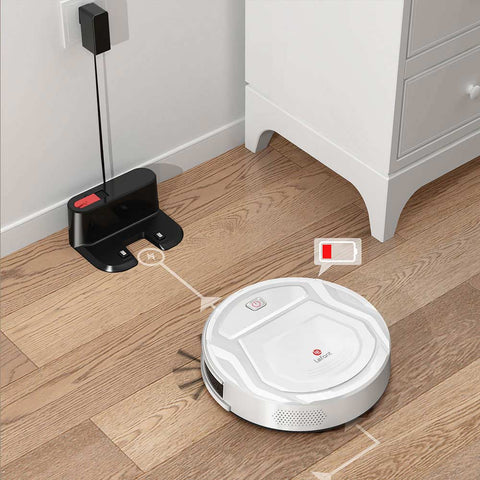 Automatically Self-Charging
This self-charging robotic vacuum cleaner will go back to the charging base automatically when it runs out of battery or finishes vacuuming.
Smart Control
App control is available for this robotic vacuum cleaner. It is easy to setup and you can switch cleaning modes and schedule the cleaning task via your phone. 
Six Cleaning Modes
➊Smart clean mode➋Edge clean mode➌Spot clean mode ➍Automatic clean mode➎Time-setting clean mode➏Quiet clean mode
M210 can create real-time maps in automatic mode.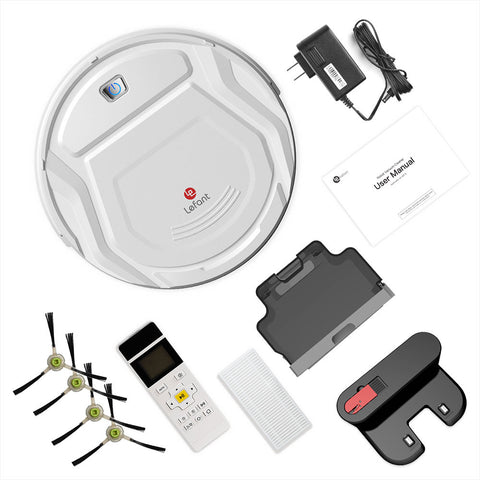 Items Included With Lefant M210 Vacuum
The M210 robotic vacuum cleaner, charging base, 19V power adapter, 500ML large dust bin, 1 HEPA filter,4 side brushes, remote control, machine cleaning brush for daily maintenance, user manual.